Contemplating a move to Memphis? Here's what you need to know before you pack your bags and leave.
1. It's the birthplace of Rock 'n Roll
Here you'll find Sun Studio, where some of the most important and enduring tracks in Rock 'n Roll history were recorded. The King himself, Elvis Presley, recorded his first album here. The Sun Sessions, a compilation of his recordings at the famed studio from 1954 to 1955, catapulted his career and attracted attention from RCA Records, which bought him out of his contract with the Sun Records.
His mansion, Graceland, can also be found here. One of Memphis' biggest attractions, the mansion contains artifacts and photos that will give you a glimpse into Presley's life and career. Go on a guided tour of the rooms, which have been restored to look the way they did in 1977 at the time of Presley's death. The Jungle Room, perhaps the most popular of the rooms in the mansion, is filled with animal prints and exotic wood carvings.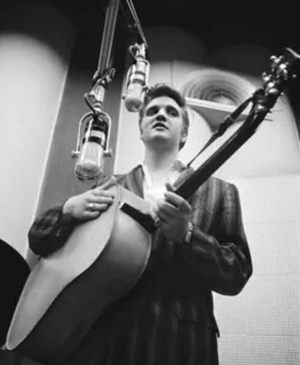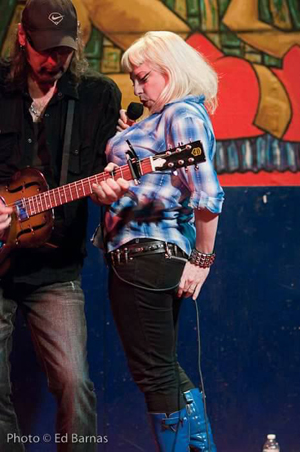 2. The local music scene is alive and kickin'
You'll never run out of live music venues to visit during your stay here in Memphis. And that's not all – the city is home to the annual Beale Street Music Festival, which kicks off the month-long festivities of Memphis in May, as well as the International Blues Challenge. Get your dose of good music right here. Discover local talent and bop your head to the sound of live music.
Some of the most celebrated live music venues in the city include B.B. King's, Black Diamond, Blue Monkey, and Newby's Bar & Restaurant. Known as the heart of blues music in the country, Memphis has its fair share of highly regarded blues clubs, including Boogie Café.
Photography: Ed Barnas; @edbarnas
Band: Low Society – Low Society's Facebook Page; Low Society's Instagram; Low Society's Twitter
3. It's home to the Cannon Center for the Performing Arts and The Orpheum
Watch production tours, concerts, musicals, ballet shows, and other live performances at the Cannon Center and the Orpheum Theatre. The Cannon Center is a multipurpose venue with a capacity of 2,100 while the Orpheum seats 2,500. Both are highly esteemed venues where you can catch the best and brightest local and national acts.
The Orpheum offers musical and acting workshops through the Centre for Performing Arts & Education, where you can learn a thing or two about the technical aspects of a professional production, as well as the craft of performing on stage. The theater itself is a historic structure, having first opened in 1890 as the Grand Opera House. Click here for a link to the Orpheum's website

4. It's a great place for nature lovers
Nature lovers should visit the Shelby Farms Park Conservancy. At 4,500 acres, it has trails for hiking, biking, and horseback riding. Observe Memphis' scenic beauty and keep an eye out for the wonderful creatures that call this place home – over 200 species of deer, birds, bobcats, rabbits, minks, squirrels and foxes can be found here. Admire the park's pinewood forests and meadows, and enjoy a day out with friends and family. Click here for a link to the Shelby Farms Park website.
5. The food is amazing!
The city is known for its grilled meats – grab a bite of some of the best BBQ and burgers in all of Tennessee at any of the restaurants in town. Central BBQ, one of the city's best rib joints, is a popular stop for out-of-towners, while Dyer's Burgers has been around for over a century, famous for its juicy patties and cooking grease.
But there's more to Memphis' food scene than BBQ and burgers. You'll find an array of great bakeries, coffee shops, pizza joints, and confectioneries.
Photography: Kent Graham
---
The Ultimate Guide to Memphis Music Festivals
Have the time of your life at Memphis' music festivals. Watch the biggest and brightest names in the music business light up the stage right here at Bluff City.Here's a quick guide to the city's music festivals:
1. Beale Street Music Festival
Beale Street Music Festival is one of the country's top music festivals, and it has the line-up to prove it – Kings of Leon, Deathcab for Cutie, MGMT, Jill Scott, and Ani DiFranco were just some of the artists who performed in 2017. But it's not just big-time artists who rock the stage at this festival. It's a great way to discover budding talent, as well as the city's best local acts.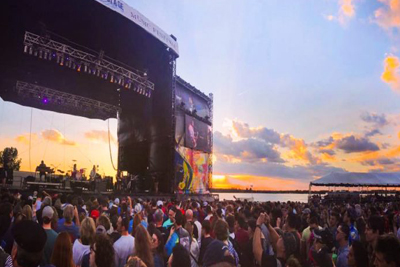 This three-day festival takes place at Tom Lee Park in downtown Memphis. It's a rain or shine event, so bring your rain boots and a light jacket just in case. There are food and beverage vendors at the festival grounds, so take it as an opportunity to sample the local cuisine. For information about Memphis in May's Beale Street Music Festival, CLICK HERE.
2. Memphis Music and Heritage Festival
Organized by the Center of Southern Folklore, this two-day festival brings you the best of blues, jazz, rock 'n roll, and Latin music from the Memphis Delta Region. Close to 100 musicians, dancers, cooks, and artisans performed at the festival's 30th installment in 2016. Witness the city's musical heritage first-hand and meet the artists who keep its legacy alive. The Shades, The Bell Singers, and Choctaw Dancers are just some of the performers who have graced the stage at the festival.
The event traditionally takes place on Labor Day weekend at Main Street in downtown Memphis. Aside from musical and dance performances, there is a cooking stage that showcases Memphis soul foods. Arts and crafts vendors are also on hand to sell trinkets.
3. The International Blues Challenge (IBC)
The Blues Foundation brings some of the world's finest blues artists to Memphis during the International Blues Challenge. Watch them compete for awards in several divisions, including best band, solo/duo, instrumentalist, and self-produced album. Blues acts Al Hill of the Nashville Blues Society and Dawn Tyler Watson of Montreal, Canada won awards for the solo/duo and band finals, respectively, in 2017.
The event takes place at the Orpheum Theater. Pre-purchased premium seating at the center front of the venue will bring you close to all the action. Take the time to explore downtown Memphis in between live performances – Beale Street is lined with shops and restaurants worth checking out.
4. Anthem's International Music Festival (IMF)
The IMF is a series of concerts that take place in over 70 cities, including Memphis. Proceeds go to The Musary, a non-profit that lends instruments local musicians and school band programs. The festival showcases local talent, with established artists and up-and-coming acts crowding the line-up. All participating musical acts are eligible to win an all expense paid tour of Europe and Africa, among other perks.
5. Elvis Week
Elvis Week celebrates the life and legacy of the King of Rock 'n Roll. The festivities take place at Graceland for several days, with fun events like concerts, tribute artist contests, auctions, 5k runs, and panel discussions. Come here for some great music. Get the chance to meet other Elvis fans and discuss his life's work. Click here to keep up to date about Elvis Week events.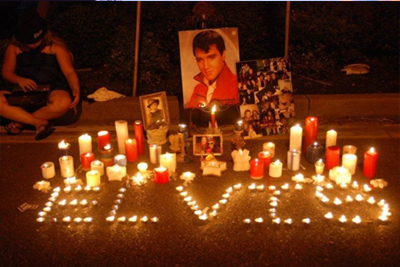 ---
Fun Spring Activities to Do in Memphis
Memphis comes alive with all sorts of festivals and family-friendly destinations in the spring. Here are some events to look forward to:
1. Taste of the Caribbean Food Festival
Discover the different flavors and textures of the Caribbean islands. This food festival brings you the best BBQ, jerk meats, tropical fruits, desserts, cocktails, and punches prepared by local and international chefs. Admission tickets include food.
The festival doors close at mid-day and re-open in the evening for a reggae concert, an indoor seated event. Catch your favorite reggae bands and DJs here – previous installments of the festival have paid tribute to Bob Marley.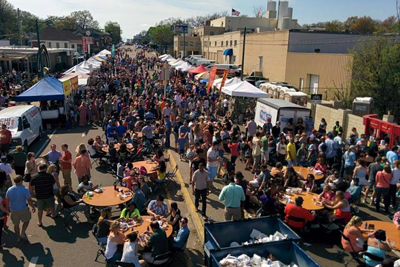 2. Overton Square Crawfish Festival
Get ready to peel crawfish shells to get those tasty morsels at the Overton Square Crawfish Festival. Experience Cajun cuisine at its finest – po-boys, gumbo, and red beans and rice are just some of the dishes you'll get to try. The festival also has an array of arts and crafts vendors and a line-up of live performers who will give you a day you won't forget. Admission is free. Click this link to visit their website.
3. Agricenter Farmer's Market
Buy fresh produce at Tennessee's longest running farmers market. Open six days a week during peak growing season from May to October, the market's vendors also sell natural meat, herbs, plants, baked goods, and seafood fresh from the gulf. Regular vendors include Jones Orchard, Lor Farms, Peach Word, and Paradise Seafood. Click here for more information about the Farmers Market and their seasonal schedule.
4. Mud Island Riverwalk
One of Memphis' most popular tourist attractions, the Mud Island Riverwalk is scale model of Lower Mississippi, complete with flood-ways and 20 cities mapped alongside it. It even empties out into a scale model of the Gulf of Mexico, an enclosure that spans an acre and holds about 1.3 million gallons of water.
Go for a walk along this magnificent model and get the chance to revisit historical events and geographical formations at various points. You can also go on a pedal boat ride in the small-scale Gulf, with the Memphis skyline as your backdrop. Visit the Mud Island website HERE.
5. Memphis Brooks Museum of Art
If you're looking for something more laid-back, explore the Memphis Brooks Museum of Art. Here you'll find fascinating exhibits and collections that showcase the works of artists from all over the United States. Go on a guided tour for insight into the museum's permanent collection – a trained volunteer will show you around and provide in-depth information on the works on display.
There are a number of events and programs for children and teens to enjoy, too. Community Days at the Brooks, for instance, feature art activities, live performances, and storytelling. The Wacky Wednesday Summer Series offers families a creative outlet by way of open studios and gallery guides during the summer. Click this link for the Memphis Brooks Museum website.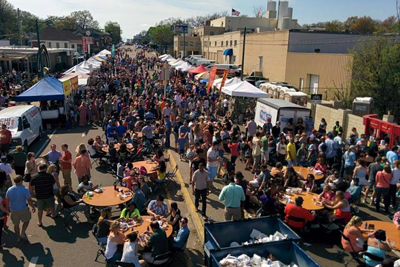 ---
Discover Memphis' top attractions. From museums to outdoor destinations, the city has it all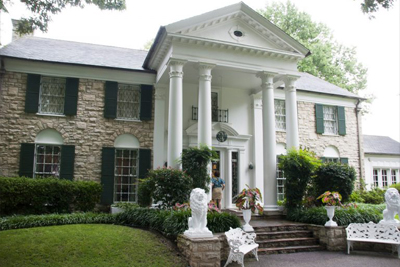 1. Graceland
Visit Graceland Mansion, which served as Elvis Presley's residence in Memphis. One of the city's biggest attractions, the mansion offers you a glimpse into the rock icon's personal life – get a chance to see the foyer where he received guests, as well as the Jungle Room, which was decorated with wood carvings and green carpets. Pay your respects to the King of Rock 'n Roll at the Meditation Garden, the last stop the tour, and where Elvis was laid to rest. Visit Graceland's Website HERE.
2. Stax Museum of American Soul Music
Here you'll find a re-assembled 1906 Mississippi Delta Church, where soul music has its roots. The museum is also filled with period equipment, old Stax records, and other fascinating displays like Isaac Hayes' custom Cadillac. There's a dance floor too – bust a move while scenes from old Soul Train episodes play in the background. Visit Stax Museum's Website HERE.
Special events like record swaps and panel discussions take place here throughout the year. The venue also hosts private events like weddings, reunions, and corporate events.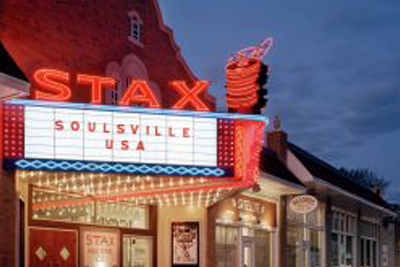 3. National Civil Rights Museum
Get an overview of the civil rights movement at this museum. The permanent exhibit features over 260 artifacts, 40 films, and other items that trace the origin of the resistance during the slavery era, through to the Civil War and other major events that shaped the movement. Special events like talks and reading festivals are held here as well. Visit the National Civil Rights Museum Website HERE.

4. Shelby Farms Park Conservancy
Go on a guided tour of the park, where you'll find extensive outdoor amenities, including an 18-hole disc golf course, a water play spray ground, laser tag and paintball equipment, and scenic trails. Come here for a day out with friends and family – the park offers countless opportunities for leisure and exercise.
The park is also home to 30 species of trees. An arboretum tour will give you the chance to learn and observe these trees upfront.
You can also walk the Shelby Farms Greenline, spanning 10.6 miles between Tillman Street in Binghampton (east of Midtown Memphis) and the Old Cordova Railroad Station. Visit Shelby Farm's Website HERE.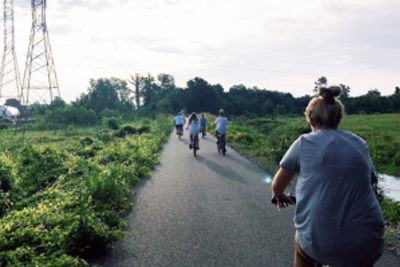 5. American Queen Steamboat Company
Cruise the waters of the Lower Mississippi River aboard the American Queen and the American Duchess. The company offers themed voyages to help you celebrate the holidays and explore the river in style. They also offer city stay packages that let you explore Memphis post-cruise. Stay for three days and two nights at an upscale hotel in the city and get the chance to visit landmarks like Graceland, Sun Studio, the National Civil Rights Museum, and Beale Street. Visit their website HERE.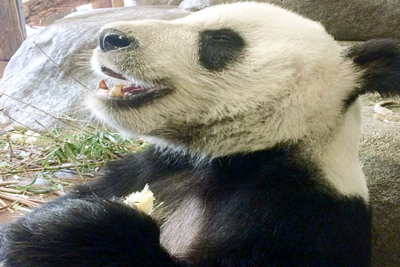 6. Memphis Zoo
Visit Memphis Zoo and meet the wonderful creatures who call this place home. Penguins, hippos, bears, pelicans, tigers, otters, and giant pandas are just some of the animals you'll get to see on your trip. You can even explore the zoo at night – Zoo Snoozes allow guests to visit the zoo after the gates close. Go on a moonlight safari and watch nocturnal animals at play. Guests sleep in an indoor climate-controlled facility and are served breakfast the next day. For more information about the Memphis Zoo, click this link to visit their website.
Photograph: Memphis Zoo @memphiszoo
7. Beale Street Historic District
Spanning three blocks, Beale Street boasts a spectacular array of specialty shops, live music venues, bars, and restaurants. Paint the town red and see what this historic district has to offer. A number of events, like the International Blues Challenge, the KIX on Beale concert series, and holiday celebrations take place here throughout the year. For more information about Beale Street has to offer, visit their website HERE.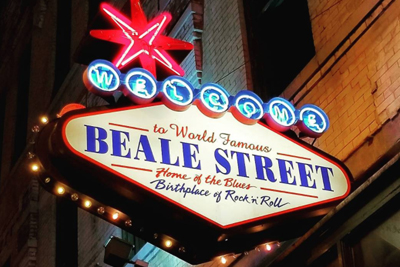 ---
Things to Do on Beale Street by Night
Spanning just three blocks, Beale Street was declared a National Historic Landmark in 1966. It's filled with bars, restaurants, nightclubs, and cultural venues for a wonderful night out at town.
Voted "Favorite Iconic American Street" by the 10 Best Readers' Choice, this short stretch in Memphis is perfect for the following:
1. Listen to live music
Music is serious business in Memphis, and you'll hear live music spilling out of the bars and clubs on any given night. If you love blues music, you're in for a treat – Rum Boogie Café, B.B. King's Blues Club, the Hard Rock Café, and Silky O'Sullivan's are some of the most highly regarded blues clubs in the country. Rum Boogie Café, in particular, is connected to Blues Hall, giving you twice the experience for a single cover charge.
But there's more to the city's music scene than the blues. Drop by the New Daisy Theater for alternative acts. Artists like Cat Power, The Strokes, and The Raconteurs have performed here in the past.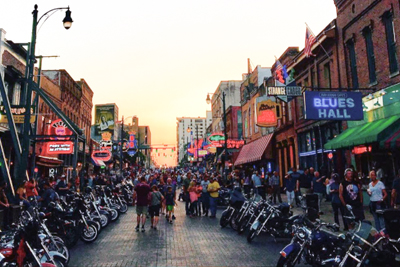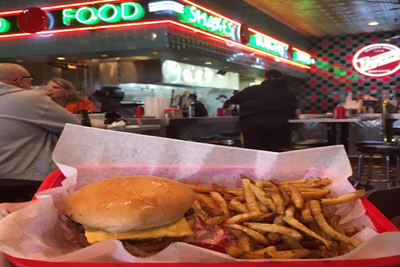 2. Eat like a local
Feast on BBQ, burgers, fried chicken, and other Southern favorites at Beale Street. The Pig on Beale serves some of the best BBQ in town, while Dyer's Burgers is the place to go for juicy patties. You'll find restaurants that serve classic Cajun and Creole dishes – dig into some jumbo shrimp and grits and jambalaya pasta at Itta Bena and Jerry Lee Lewis' Cafe & Honky Tonk. Click here for Dyer's Burgers' Menu.
Plan your own food crawl and sample local dishes. Wash it all down with some ice-cold beer at Kings Palace Tap Room or Beale Street Tap Room.
3. Go shopping
Check out the stores along Beale Street. Memphis Music boasts an impressive collection of records from BB King, Albert King, Howlin' Wolf, Memphis Minnie, and Stax, along with posters and memorabilia. Buy vintage clothing at Lansky Bros. Clothier to the King or shop for leather goods at Eel, Etc. Basketball fans should visit the Memphis Grizzlies Den where team shirts and other
One of the most notable stores on Beale Street is A. Schwab Trading Co. One of the only original stores left on the street, the store evolved from an 1876 haberdashery to the magnificent piece of history and general store it is today. With original artifacts from the late 1800's, two floors of merchandise, a museum on the half floor between the downstairs and upstairs, and a Soda Fountain with yummy gelato and fresh made waffle cones, A. Schwab's is a store you can't pass up! Their store motto has always been "If you can't find it at Schwab's, you're better off without it". With thousands of items to choose from, we bet you won't have a problem finding something you need. Visit A.Schwab's website HERE and their Facebook page HERE.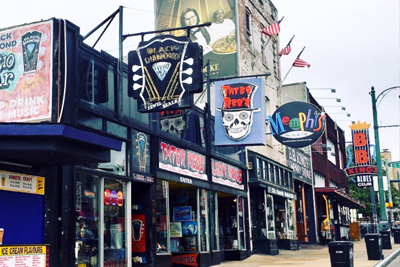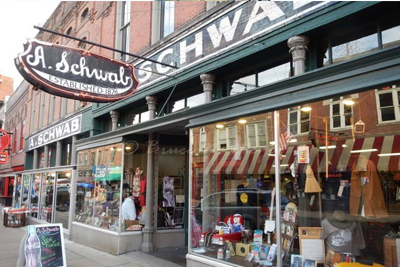 4. Watch a live performance
At the top of Beale and a turn down Main street is home to the Orpheum Theatre, which is widely regarded as the "South's Finest Theatre". Come here and watch your favorite Broadway musical, a ballet recital, or a comedy sketch. The theatre also screens classic films like "Breakfast at Tiffany's" and "Willy Wonka and the Chocolate Factory". Special events like awarding ceremonies also take place here throughout the year.
Make the most of the Orpheum's offerings by purchasing season tickets, which come in five-show packages. Perks include savings, first access to certain shows, and more.
5. Attend an exhibit
Explore the exhibits at the Withers Collection Museum & Gallery, where the works of Dr. Ernest C. Withers, a freelance photojournalist, are on display. Get a glimpse of American history and politics through Withers' black-and-white photographs. Some of his subjects include Martin Luther King, BB King, and Elvis.
Nearby Art Village Gallery is another must-visit – get the chance to view artworks from Nigeria, Columbia, Ethiopia, and Thailand, among other places. The gallery also has a wine tasting room where small events are held.
---
Must-Eat Restaurants in Midtown Memphis
Explore Midtown Memphis' culinary scene by booking a table at any of these celebrated restaurants: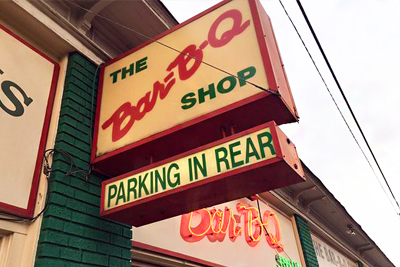 1. The Bar-B-Q Shop
1782 Madison Ave
Visit this casual neighborhood eatery for ribs so tender, the meat falls off the bone and melts in your mouth. Ask for their Half-and-Half Ribs, which comes in a split portion – one wet and one dry. They also serve salads, sandwiches, spaghetti, and fries.
It's the kind of place where the food takes center stage. The interior is dressed down, with simple furniture. The atmosphere is relaxed and casual. Get a taste of flavorful, slow-smoked BBQ doused with the Vernon family's heirloom sauce recipe right here.
2. Beauty Shop
966 S. Cooper St
The first thing you'll notice is the décor – housed in a former beauty parlor, the restaurant's interior features hair dryers, glass blocks, and salon seats. The menu is just as thrilling. Dishes like watermelon and wings, grilled peaches with cheese, and bacon-wrapped steak frites are just some of your choices. Come here if you're looking for a restaurant with character, and for a meal that is far from the usual.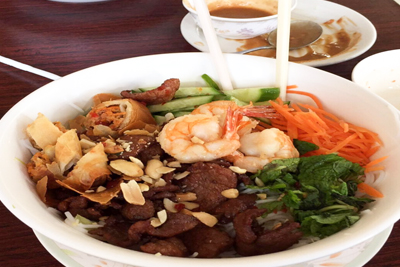 3. Pho Binh
1615 Madison Ave
If you're in the mood for Vietnamese, visit this no-frills food joint in Midtown. The restaurant is a hit with vegetarians, offering flavorful meatless dishes like spaghetti noodles with stir-fried vegetables and Kung Pao tofu. The pho is a must-try – make it a point to order a bowl of steaming Vietnamese soup while you're here. Toppings range from BBQ pork and meatballs to shrimp and crab meat.
Pho Binh is also known for its affordable lunch buffets – drop by on a weekday to sample the restaurant's scrumptious buffet offerings.
4. Restaurant Iris
2146 Monroe Ave
Restaurant Iris serves French-Creole cuisine in an elegant but relaxed setting. Housed in a renovated bungalow with no more than 13 tables, it's an excellent choice for dates, anniversaries, and business meetings. Dine on pan seared Alaskan halibut, shrimp and duck jambalaya, and other delectable dishes. Pair your meal with a glass of wine or have a cocktail before or after dinner.
Better yet, try several dishes through a five-course degustation. Inform the kitchen staff of your allergies, food preferences, and how adventurous you'd like your meal to be, and they'll take care of the rest.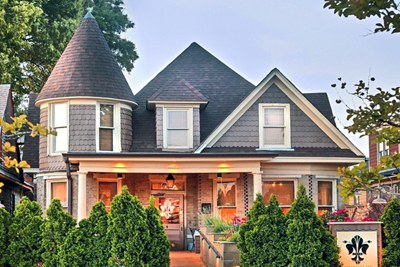 5. Memphis Pizza Café
2087 Madison Ave
Buffalo chicken, Cajun chicken supreme, and BBQ chicken are just some of the pizza toppings that this restaurant offers. The Alternative pie, however, is the star of the show – this crowd favorite is refreshingly simple, with nothing but olive oil, mozzarella, garlic, tomatoes, and crushed basil on it.
Their pizza dough is prepared daily, and doesn't contain any dairy or sugar. Your options are dine-in or carry-out –Memphis Pizza Café doesn't deliver. This lets them prioritize quality over speed. If you're not up for pizza, the restaurant also serves salads, sandwiches, and calzones.

6. Bari Ristorante
22 S Cooper St
Bari brings you the flavors of Southern Italy. Come here for authentic Italian dishes made with fresh ingredients. Whole grilled sardines, steamed black mussels, and fried zucchini with goat cheese fritters are just some of your options. The restaurant also boasts one of the most impressive wine and cheese lists in Memphis.
Located on the ground floor of a low-rise brick building, the restaurant offers an intimate setting for dinner dates and small get-together's.